It feels like the blog-osphere begins to die down come Friday, then trickles off on Saturday, with far less posts and interactions in comparison to Monday through Thursday. My quick fix? A rules free, anything goes link-up! Link-up your plans for the weekend, tutorials, giveaways, anything you are loving. The best part? You can come back and link-up the entire weekend through, up until Sunday at midnight! Then have fun conversating with some new friends!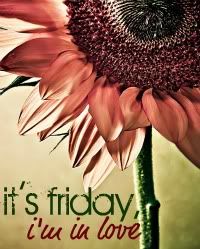 I'd love if you'd grab a button and display it in your post to help spread the word!
Obsessing over… All these ah-mazing new friends I'm meeting on here.
Working on… tweaking my blog. Perhaps I should knock some Econ out so I can enjoy the Superbowl on Sunday!
Thinking about… How many exams and papers I have in the upcoming week that I have yet to start.. ruh roh.
Anticipating…
My Spring Break
Royal Carribean Cruise
with my mama and sister, just a month away! Better get some sun before then ;)
Listening to… The TV my roomie has on in the background, something about Whoopie Goldberg farting as she talks to celebreties on her show? Classy.
Eating… A giant chocolate chip cookie dipped in ice cold milk.
Wishing… It was 80 degrees in Ohio right about now. Hey, no snow so I guess I don't have much room to complain. I just want to be wearing shorts and flops around campus again!
Last day to enter
Operation Beautiful
and 2 days left for my
giveaway
! And d
on't forget to
shop my closet
before it's all sold out!